Over the years I've worn a variety of equestrian sun shirts. My current crush, and I believe the best equestrian sun shirt line for both sun protection and fashion, are the laser cut styles from from 70°.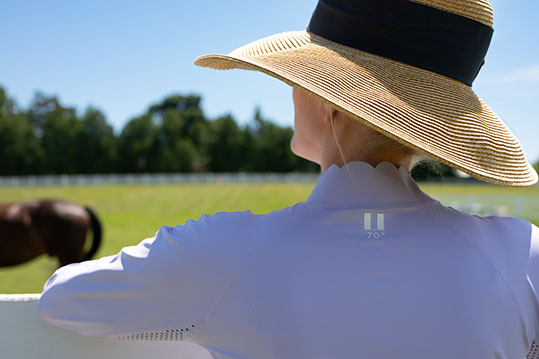 Not your typical sun shirt, the Laser Cut 70° sun shirt lineup boasts hardworking skin defense with a touch of pretty. Tiny cut outs in the buttery fabric create a unique look, enhancing garment breathability. And with UPF 50+ protection, this is a sun shirt perfect for barn days and other activities such as golf, tennis or even taking your dog for a walk.
Pretty Laser Cut Sun Shirt Details
The Blue Morpho 70° sun shirt features tiny triangles, artistic air holes really, along the collar. At the point of manufacturing, a specialty laser slices through the fabric, but every triangle is removed by hand. The 70° sun shirts are both artisanal and thoroughly modern!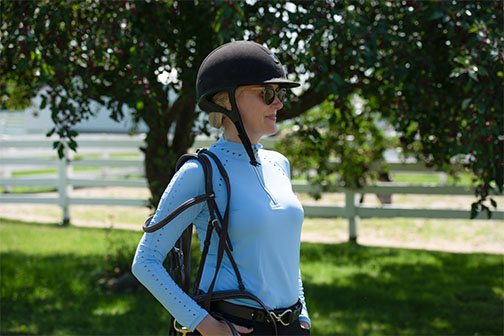 Laser cut triangles flow down the long side of the sleeves. Additional cut outs traverse across the shoulder blades and then vertically along the seams in back for a total of four lines of air flow possibilities.
Scalloped Collar Equestrian Sun Shirt
The crowning glory of the lavender 70° laser cut sun shirt is the curvy scalloped collar! A special heat sealing process provides a sculptural note, reminiscent of a crisp, starched collar (but way more comfortable). I keep getting compliments on it.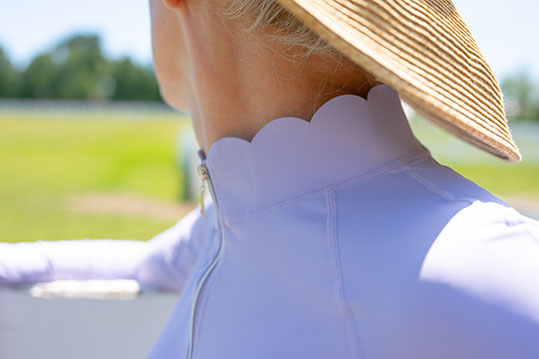 The back of the 70° lavender laser cut sun shirt possesses an obelisk-shaped perforation of circles creating a beautiful, straight up and down pattern to align with your spine. The sleeves also have circular venting holes underneath the arm, located where some other brands utilize a thinner piece of fabric.
Psst! If you love reading horse books while wearing your sun shirts at the barn, I think you might like my equestrian memoir Marguerite, Misty and Me. 
Stay-Clean Fabric Technology
The special blend of fabric used for all 70° sun shirts is next level in stain resistance. This is for sure a trait making it the best equestrian sun shirt! For example, on my recent Ireland horse riding vacation, I got slimed by my sweet chestnut pal and the grass green blotch on my sleeve remained there until a week later when I was back home and could do laundry. By that time I had forgotten about the spot on the shirt and into the washer it went along with my other travel clothes.
When I pulled the shirt out after the cycle, there wasn't a trace of green!
Peep the 70° Safari Sun Shirt here.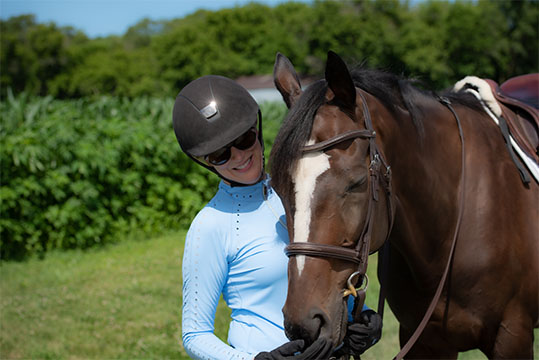 Another time, wearing a 70° laser cut sun shirt, I realized my sleeve had a brown patch, about the size of a computer mouse! While in the wash rack hosing Knight I thought, "I wonder what would happen if I just hose off my sleeve."
I adjusted the hose nozzle to a more forceful stream and sprayed my sleeve. By golly, the dirt smudge disappeared! I felt like I could have been on a commercial. Later I confirmed with Alisa, the owner of the brand it wasn't a fluke. The sun shirt fibers are designed to "release" a stain.
Best Equestrian Sun Shirt and a Decent Price Point
There's a lot to love besides the top notch performance of the 70° laser cut sun shirts. The company is female owned by a rider just like us. Alisa, the designer/owner, knows the practical needs of the horse crowd. Not just because she is one of us, but because she is out in the community talking to the people she meets.
Over the past year, 70° has been out and about at both World Equestrian Centers (Ohio and Florida), WEF, Land Rover Kentucky and AECS, to name a few. While at her booth, Alisa conducts informal market research, digging deep into the likes and wishes of customers. The feedback gleaned is always on her mind as she brings new products to market.
For more horse and equestrian product reviews, visit saddleseekshorse.com, my blog serving everyday horse lovers since 2013.